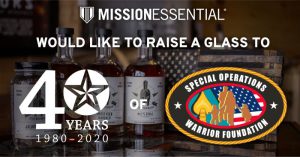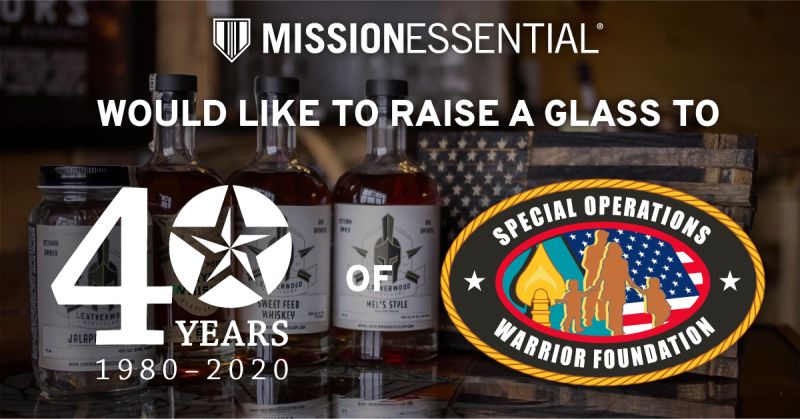 Mission Essential celebrated Major General (Ret.) Clay Hutmacher who serves as the President and CEO of SOWF.
HERNDON, Virginia, November 11, 2020 – On November 10, Mission Essential hosted a hybrid virtual and in-person, socially distanced whiskey tasting to honor the President and CEO of the Special Operations Warrior Foundation (SOWF), Major General Clay Hutmacher, and the 40th anniversary of the philanthropic organization. The in-person event was held at Chef Warren's Market and Bistro in Southern Pines, North Carolina.
SOWF ensures full post-secondary educational support to surviving children of special operations personnel and immediate financial assistance to severely wounded special operations personnel. SOWF provides students with tools for educational success, including preschool funding, academic counseling, private tutoring, college planning, coaching and mentoring, and college-to-career transition.
During his two years at the organization's helm, Major General Hutmacher has made a significant impact.
Extended the eligibility criteria to include children of all Medal of Honor recipients, living and deceased.
Expanded eligibility criteria for immediate financial assistance to include SOCOM personnel with Category III illnesses, in addition to those wounded in combat and injured in training.
Established a program to fund education programs for eligible special needs students. Established an Ambassador program to expand the SOWF family and network nationally.
Participants enjoyed comments from Major General Hutmacher's friends and colleagues, including Major General Mark Clark, whiskey trivia, and conversation.
The whiskey tasting was led by Leatherwood Distillery. The distillery is owned by Andy Lang, a 24-year vet, Army Special Forces, and his Partner Masoud Rezai, a North Afghanistan native and interpreter for the U.S. Armed Forces. They met in Afghanistan in 2011. Virtual attendees sipped samplers sent directly to their home live on Zoom.
Mission Essential is honored to support the SOWF mission.
ABOUT THE MISSION ESSENTIAL GROUP
The Mission Essential Group, founded by U.S. Army SOF veteran and current Chairman Gregory K. Miller, is an agile, trusted partner to the Defense and Intelligence communities, friendly foreign governments, and select private sector segments. The company is a leading provider of intelligence analysis and operations support, ISR solutions/technology, Cyberspace/Security superiority, Human Capital Management, and language and cultural advisory services. Mission Essential executes prime contracts with numerous Intelligence Community members, as well as with the U.S. Army, Navy, and Air Force; U.S. Central, European, and Africa Commands; and the State Department. With home offices in Columbus Ohio and Herndon Virginia, The Mission Essential Group's global footprint encompasses over 45 countries and 17 domestic U.S. locations.